DECOR LIGHTING
With an extensive inventory of waterproof LED fixtures, SJP Productions is capable of large scale site lighting installations as well as mood lighting for indoor venues. For outdoor festivals, uplighting trees and tents provides a simple but effective way to draw people in. Decor lighting can also provide an alternative to harsh site lighting to provide a more consistent vibe throughout your site and into the night.
TENT UPLIGHTING
Lighting the outside of your tent is a subtle way to add night time color to your site, and helps draw people in. Once inside, tent uplighting provides a beautiful alternative to traditional tent lighting and can transform your tent from a drab covered area to a legitimate hang out. Our lights are fully programmable and incorporating dimming chases and color scenes into your decor lighting is quite stunning. Fabric deco adds another dimension. Tent lighting makes a huge impact and is especially valuable for creating a special VIP experience for your high paying patrons. Projection Mapping is also an incredible way to add value to a VIP tent or to generate income through sponsorship visibility.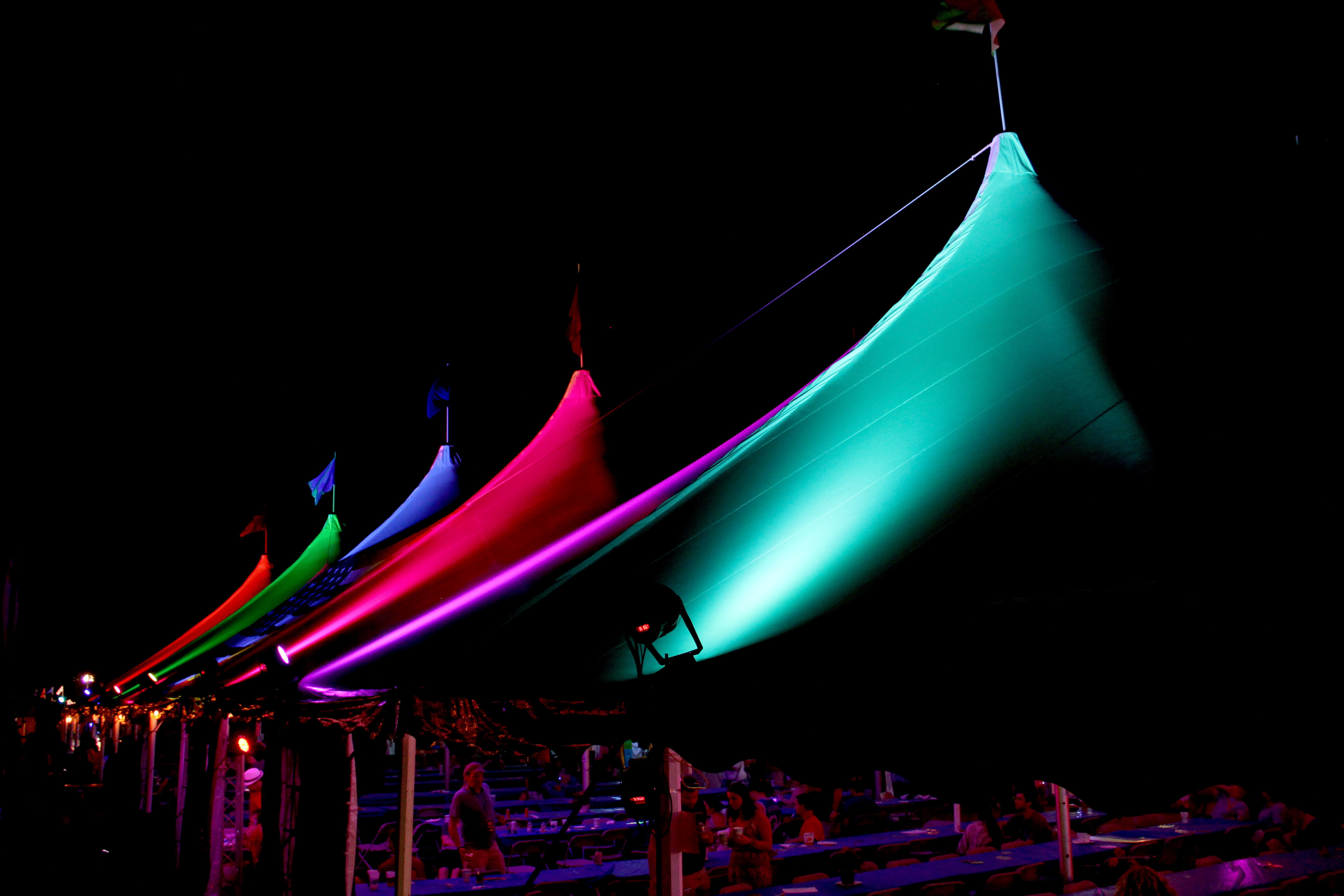 TREE UPLIGHTING
Tree uplighting is a powerful yet subtle effect, enhancing your site's natural beauty. It is also an effective way to guide your crowds to desired locations after the sun goes down. We offer a modern upgrade on traditional tree uplighting, with colour changing waterproof LED par cans which can be coordinated to music, for an earthy campfire version of, or addition to, your more traditional stage light show.
NON-TRADITIONAL APPROACH
Having grown out of a stage lighting background, SJP puts a fresh twist on decor lighting by incorporating programmed lighting scenes in non-traditional scenarios. You can expand your stage light show to a full visual experience by combining proximal site lighting into your stage light show, or use programmed dimming chases to guide the flow of people at your site. Bringing this fresh perspective even further, we have partnered with Explore Disc Golf to bring you Night Time Disc Golf – a fully lit, fully playable night time disc golf course with programmed lighting scenes and projection mapping effects for a fully immersive visual experience. We love to find new and exciting ways to light things up.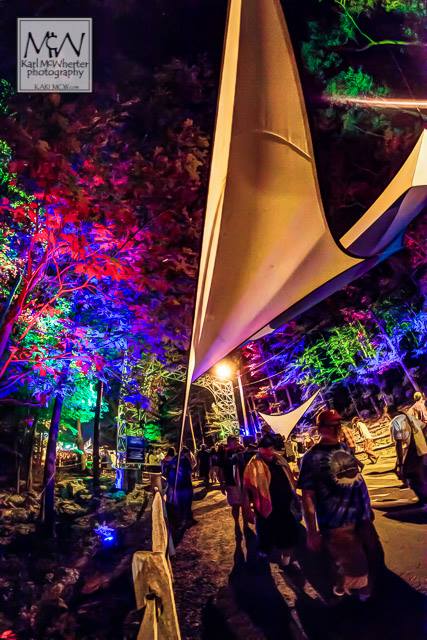 SJP PRODUCTIONS TRANSFORMS THE NIGHT
So, don't let your park go dark after sunset. And don't settle for using traditional mood killing area lights everywhere. For an even more mind blowing experience, we can incorporate projections into your site lighting package. Contact us and we will help you light your site in ways that you would never have expected.
CHECK OUT OUR EVENT GALLERY FOR MORE IDEAS: